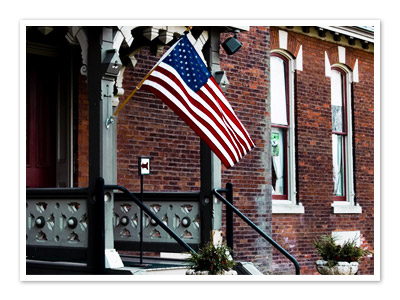 How is All USA Clothing different?
Why Clothing Made in USA?
Good for your Business
Quality Clothes
Our Guarantee
Support America
How is All USA Clothing different?
At All USA Clothing, we are committed to providing the very best American made clothing and accessories at the best prices. Period. That's what we do – it's ALL we do, and we're experts! We know that you have the 'freedom of choice' when shopping, and we hope you will stand firmly with us as we support the proud men and women who are making goods in the USA!
Why Clothing Made In USA?
Buying clothing Made in the USA is good for you and your country!
American made products help to build and maintain a stable, growth-oriented American workforce and economy. It has been proven, the more we invest in products Made in the USA, the greater our domestic growth and the more US jobs we create. It is an investment in the future of this country. We are all in this together!
All USA! Clothing has been dedicated to this cause for over 20 years. We are here to provide you with the best clothing, footwear and accessories at the most competitive prices – all Made in the USA. We support labor, American jobs, US manufacturing and the success of this great country!
It is a real shame, but nearly 98% of the clothing bought in the USA is manufactured overseas. All USA Clothing takes great pride in stating that we are part of the growing 2% who are committed to reversing this trend and are 100% dedicated to American made apparel for Americans!
America holds a long and rich history in textile and clothing production. Unfortunately, the growing appetite for cheap goods and exorbitant profits has swept that great American tradition under the rug for the past few decades. While a handful of dedicated and amazing manufacturers (our All USA partners) have continued to successfully produce exceptional clothing at fair prices (while paying Americans a living wage to produce them!), others have vanished from the marketplace. We applaud our American manufacturers who have made the decision to keep their businesses here at home in the USA.
The good news? America's textile and apparel industries are investing in new technologies at unprecedented rates. As a result, the industry at large has an broadening ability to produce clothing and apparel right here in the USA that is not only superior in quality and construction, but also price competitive in the world market today…
Good for your Business
We help you determine which items best fit your company's needs, from staff uniforms to promotional giveaways. In addition, our art department can make the necessary modifications to your design to maximize the effect you are looking for. Get more information about the All USA Advantage here.
Quality Clothes
American made clothing is simply better made than apparel made overseas. Better craftsmanship, happier workers, investment in product and pride in work and good old fashioned American work ethic. Americans are invested in the products they (we) produce.
When you purchase from All USA Clothing you are supporting the proud, skilled American labor force that made it. Like those who make our amazing apparel, we stand behind every product we sell.

Our Guarantee:
We want you to buy All USA! products with absolute confidence. Each purchase you make with All USA! comes with a full money-back guarantee if you are not entirely satisfied with your purchase. We offer the best American made clothing, footwear, work, outwear and accessories. We pride ourselves on excellent customer service and welcome your comments and feedback. That is our guarantee to you.
Support America:
We are all in this together. Buying clothes that are made in the USA means you are making a valuable contribution to the success of domestic manufacturing. When you choose to buy American, you help to support the economy and the long-term security of jobs - your friends, family and neighbors jobs. That is why the clothing, footwear, work wear, outerwear and wholesale apparel we sell are all made right here in the USA!
Our goal is to offer you the best clothing at affordable prices from domestic manufacturers who are as determined as you are to do their part. If we all work together, we will continue to revitalize our country's economy, growth and American prosperity. With our large selection of clothing made in America, All USA! Clothing is your one-stop-shop for all clothing and apparel made right here in the USA. Ask us about our wholesale pricing for your American Made Clothing and All USA! custom manufacturing.