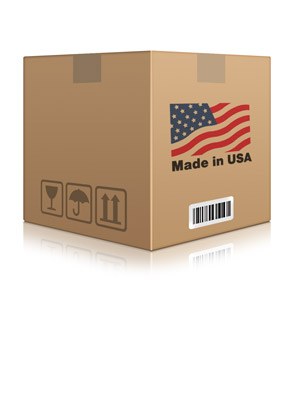 Shipping Policy
Simply look for the

logo to enjoy free shipping on selected items throughout the store. Otherwise, we charge a $10.00 Flat rate on all orders regardless of the quantity of items.
Standard orders are processed once credit card authorization and verification have been obtained. Orders shipped via standard delivery typically arrive in five (5) to nine (9) business days (Monday through Friday, not including holidays). Please allow up to fourteen (14) business days for shipments when paying with Checks or Money Orders. Normal processing times for orders is within 24-48 hours.
*Addresses must be spelled out. For Example, SR must be spelled out as State Road. Otherwise an additional shipping fee may be charged when UPS bills us for corrected addresses.
Shipping
The number of shipments we make for your order is dependent upon:
Our fulfillment network: In order to offer you the largest selection of American Made clothing and serve our customers more efficiently, ALL USA Clothing has several different participating fulfillment centers located across the United States. These warehouses are located in Michigan, Illinois, Kansas, Kentucky, New York and California. These centers often house different manufacturers and types of products. If you order dissimilar items or items from different vendors -- say, Wigwam socks, a Bayside t-shirt, and a Carhartt Jacket--they will usually ship separately, depending on where in our fulfillment network they happen to be located.
$8.00 Flat Rate shipping only applies to addresses in the lower 48 states. Shipping to Alaska or Hawaii may require a seperate shipping fee.
Wholesale orders do not qualify for FLat Rate Shipping, and will be charged the actual shipping costs.
Shipments to International Addresses
At this time, we are unable to accept or ship international orders.